The Most Important Facebook Updates of 2013
1) Facebook introduced social search with Graph Search
This new search functionality allows anyone to search and find terms in posts, updates, check-ins, pages, apps, groups, and comments from your friends or those who post publicly.
Brands, this one is for you, with more data from Facebook comes the ability to dig deep into the trends and behaviors of Facebook users.
2) Facebook updated its News Feed algorithm with a new 20% rule
Facebook's main goal, to provide a "customised newspaper"- like experience came one step closer this year when they updated their Edgerank algorithm to include new features that have a big impact for brands. This included a new rule for ads, images in ads can't be made up of more than 20% text.
Brands advertising on Facebook are now strongly encouraged to make sure they're choosing relevant, compelling images to accompany their ads.
3) Facebook launched clickable #hashtags
In an effort to "help people more easily discover what others are saying about a specific topic and participate in public conversations" in 2013 Facebook joined the hash tag trend.
Brands can click on hash tags to surface all content for that hash tag, thus making it easy to see popular sentiments around a certain topic.
The Most Important Twitter Updates of 2013
1) Twitter images began showing automatically in users' streams
In an effort to keep up with the visual marketing trend, Twitter announced this fall it would be shining some light on images in your Twitter feed by showing images directly in your stream. Woohoo! Big news to deliver creative content!
2) Twitter went public
There was a lot of chatter about Twitter's initial public offering in November 2013. At the time of its IPO, Twitter hadn't made any money. In fact, the social networking site reported a net loss of $134 million at the end of October. However, the network with 232 million monthly active users is focused on driving revenue through its ad platform, which is currently its main source of revenue.
Brands should take notice that Twitter will be trying create a richer experience for both users and advertisers alike and most likely focus on adding features relating to advertising in the future.
3) Twitter introduced Lead Generation Cards
In late 2013 Twitter launched Lead Generation Cards, a new type of Twitter Card that allows brands to collect leads from directly within tweets.
Getting lead information from these Lead Generation Cards is as simple as one click for users, who don't need to fill out any forms to become a new lead from a Card. Here's what a Lead Generation Card looks like on Twitter: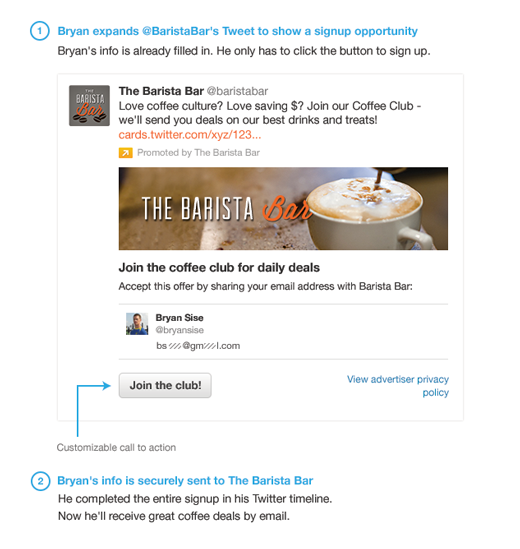 This update is important for brands because it shows us that Twitter is concerned about our conversion rates, too — and they want to help.
Making the submission on a Lead Generation Card one-click is Twitter's way of making your content and ad pounds work harder for you, because you'll be getting more leads in the door then you were before.
The Most Important Instagram Updates of 2013
1) Instagram launched sponsored ads
The introduction of paid advertising on Instagram seemed like an obvious development following Facebook take-over of the micro-blogging platform in 2012.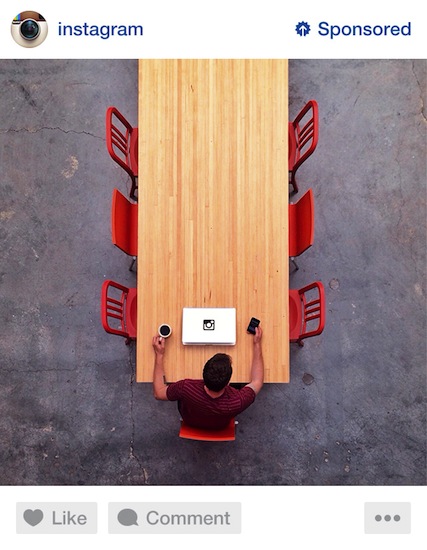 While most brands don't have access to this feature yet, it's still an important update because it gives brands a glimpse into the future of social media marketing on Instagram.
2) Instagram added video to its visual platform
The age of social video has arrived, first Vine and now Instagram! 2013 saw a huge update from parent company Facebook this year, as its users gained the ability to take videos in addition to photos with the app.
According to AllFacebook, posts that include a video are shared 12x times more often than links and text posts combined, it's time to start filming!